Tattoo! The Game of Ink is a card-based set building game where body art enthusiasts race to gain the most Reputation Points before available tattoo designs run out. Buy, place and score designs from five major themes of tattoos onto your individual Arm Board, and chain similarly themed designs for bonuses. However, your Arm Board has limited space, so to keep scoring, you'll need to pay to Laser off old designs for fresh ink later!
Tattoo! The Game of Ink is being published by Gaming Paper, LLC in 2016.
Features
Unique, Vivid Theme: Tattoo! The Game of Ink features card art by tattoo artists from around the country in order to showcase this fascinating art form!
Dynamic Victory Points: You need Reputation Points to win the game, but you can also spend them to buy more designs!
Indirect Opposition: Build sweeping chains across your Arm Board to be the best-inked with 2, 3, or 4 players!
Easy to learn for those new to tabletop gaming but who love tattoo art, while offering multiple strategic options for more experienced players as well!
Will you go big and prominent with your Design purchases, or aim for many smaller, similarly themed designs? Save your Reputation Points or spend them to buy ever-more impressive ink?
Inspiration
Tattoo! The Game of Ink was inspired by the increasing acceptance of body art in everyday society, and our wanting to demonstrate the beauty and skill that exists in the world of tattoos. This game is an homage to tattoo artists and their living canvases, and we hope you enjoy it!
Are you a tattoo artist interested in having your shop's work showcased in Tattoo! The Game of Ink, or know someone who is? Interested in learning more, or in reviewing the game? Just want to show us your favorite tattoo? Contact us here!
Download a black & white half­ deck demo PDF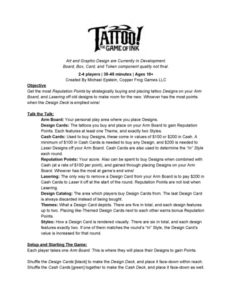 We've assembled a black & white half­deck demo PDF of the game which shows off all the features of the full game, in only 20 minutes (the full game is 40 minutes). Just print this document, cut out the cards, and piece together the Arm Boards and you've got a great taste of the mechanics of buying, placing, and scoring tattoo designs. Our recommendation is to only use the 5 spaces to the right of the Bicep space on the Arm Boards when playing this demo, so that you can practice your Lasering techniques too.
Here is the link to sign up for our mailing list and get the print & play demo of the game:
*Please note that by submitting this form you will be adding your email address to our marketing database.